Little Beaver Historical Society
Early Beaver County Farming Communities - By the Numbers
Source: Pennsylvania Agricultural History Project: Historic Agricultural Resources of Pennsylvania c 1700-1960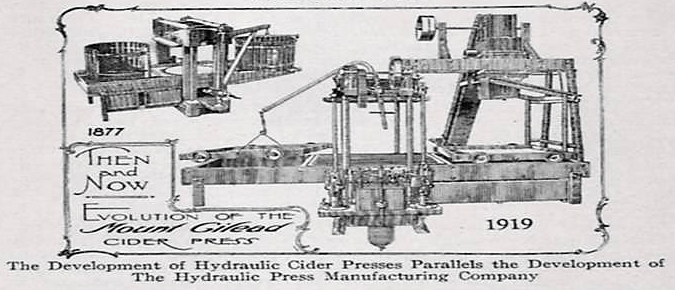 Frank Steele grew up on a farm near the intersection of Blackhawk and Georgetown Roads in South Beaver Township. According to LBHS historian Charles Townsend, "Frank wrote his memories by hand in a loose-leaf notebook sometime during the 1970's when he w as in his seventies. My late cousin, Peg Townsend, who lived in the house of Mr. Steele's grandparents, William and Susannah Smith, built in 1908 after their log cabin burned, provided me with the copy." Here is Mr, Steele's account of cider making:  
"My father bought a cider press from Lutz Brothers of Chewton, Pa. for $75.00. The press was a Mount Gilead Hydraulic 30 inch, and was run by a four horse power Detroit, one-cylinder engine. We did not have enough power. I had a 1914 Buick (that) I took the body off and put a 24 inch pulley on the drive shaft, and it really made the press hum. About everyone going by stopped to watch the old Buick. Howard McCreary sold Buicks in Beaver Falls (and) he brought out a Buick factory man to get pictures of it.

"My father bought a 8-16 International tractor from Joe Court about 1919 (and) he also bought a (larger) cider press, 36 inch, from Tom Madden about 1922 for $100.00. We could press 2 barrels of cider at one time. It was operated with the tractor. We would make from 40 to 50 barrel a day on the large press. I sold the press to Mr. Rupert, near New Waterford, Ohio, in 1939. We charged one dollar a barrel for making cider." (About $17 in today's dollars).
Source: LBHS Facebook post, October 20, 2020.
Farming in the Shadow of Nuclear Power
"Good judgement and a cool head will be helpful in protecting the Agricultural Community in the event of a nuclear reactor accident."
While doing research for this project we came across this sobering reminder that our local farmers face a potential risk that most American farmers do not have to consider–protecting our precious food supply from the harmful effects of a nuclear emergency.
The issue is real. According to the latest USDA Census of Agriculture (2017, see the
References page
for more local agricultural statistics), Beaver County has nearly 1,100 farmers working more than 613 farms producing on 53,832 acres. Most of this acreage yields crops (61%) but 39% is for livestock such as beef and dairy cattle, poultry, sheep, goats, hogs and other living things that might be most affected by nuclear radiation.
This emergency information for farmers is serious stuff. Here's an excerpt:
"Two primary protection action options for the general public are sheltering and evacuation. It is important that you respond quickly but calmly when notified that any protective action should be taken.
"Lactating dairy cows should be removed from pasture to protect milk supply. Animals should be given uncontaminated feed and water. Feed stored in buildings is protected from contamination. Water from a covered well or running spring is safe for animals.
"Sheltered animals receive some protection from radiation exposure.
"A limiting factor in protecting livestock is ventilation. It is better to have some radioactive contamination than losses from over crowding, heat and poor ventilation.
"Milk and other food products produced in the area of contamination will be tested by an appropriate agency."
Let's not forget that nuclear power generation is as much a part of our Beaver County industrial heritage as our celebrated steel and manufacturing industries. But we tend to think differently about atomic power; it has a peculiar and quiet historicity about it.
Nevertheless, the threat of a nuclear accident in Beaver County may be statistically low, but it is real and serious–even for our farming and agricultural communities that contribute to our food supply and local economy.
Let us hope that our industrial heritage and our agricultural heritage should never encounter one another under the wailing sirens of the Emergency Alert System.
Historical Reflections by Sam Moore
Sam Moore grew up on a family farm in South Beaver Township, Pennsylvania during the late 1930s and the 1940s. His official bio states, "Although he left the farm in 1953, it never left him." Now retired, Sam continues to tinker with old tractors, peruse and collect old farm literature, and write about old machinery, farming practices and personal experiences for Farm and Dairy, as well as Farm Collector and Rural Heritage magazines. He has published one book about farm machinery, titled Implements for Farming with Horses and Mules.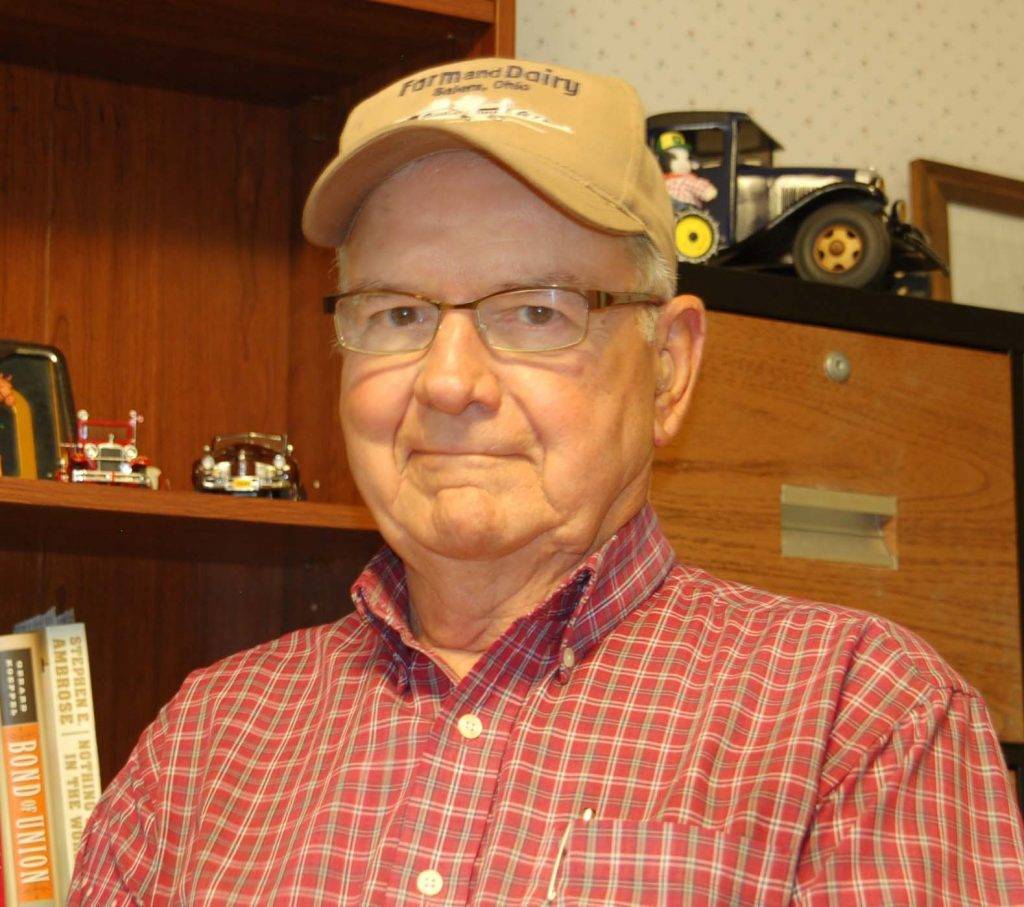 Read Some of Sam's Most Memorable Homegrown Stories
Farm Mechanics
Tractors
Farm Trucks
A Tribute to the Man with the Hoe
South Beaver Township Roads
Remembering the Days When Small Tractors Did It All
When Farmers Were Spotters: Farming the Homefront During World War II
Farm Mechanics
The following is taken from the "LET'S TALK RUSTY IRON" column I write for the Farm and Dairy.
During the 1930s, '40s and '50s, each farming community had an individual who acted as blacksmith, mechanic, and troubleshooter for the neighboring farmers. These talented men, who rarely had any formal training, could repair, modify, build or rebuild most any tractor, truck, automobile, or farm machine.
In the area where I grew up, South Beaver Township, Beaver County, Pennsylvania, the man who kept the farmer's worn out equipment running was Al McDonald. Al had been in France during World War I and had taken a strong whiff of mustard gas that left his lungs in pretty bad shape. Even though his health wasn't good, Al managed to support his wife and four daughters by his mechanical skills.
As I remember, Al's first shop was along PA Rt 168 not far from our farm, and was a long narrow building with a dirt floor. He later moved to Court Road and used the lower level of a large bam as his shop. I believe it had a concrete floor, as well as a lot more space.
The area around these shops was always cluttered with old cars, trucks and machinery in various stages of disrepair. I looked forward to going to Al McDonald's with Dad because I could climb into all those vehicles and pretend to drive them. There were usually at least two or three men hanging around the shop and I enjoyed listening to the conversation and the stories they told, which were much more earthy than I was used to hearing at home.
In addition to keeping our cars, tractors and old truck running, Al built us a large wagon using an old International truck chassis, and later, a low two wheeled trailer from old car axles and channel iron.
During the early '40s, tractors were scarce and expensive and Al built a couple of "doodlebug" tractors. I remember one that was built from an early '30s Chevrolet ton and a half truck. The cab was removed (funny how in those days, it wasn't a tractor unless it had no cab), the frame shortened, and a second four speed transmission was added behind the existing one. A large block of cement was chained over the rear axle for weight and, with tire chains on the dual wheels, an adequate light duty tractor was the result. The two four speed transmissions gave seventeen speeds forward (sixteen in various combinations of gears, and the seventeenth a low-low forward speed with both units shifted into reverse). Four reverse speeds were also available.
Another of these fine farm mechanics is Dick Ronald, whose shop along State Route 172 east of East Canton, Ohio, was the scene of much activity from the mid '40s to just a few years ago.
Dick told me that he fixed anything that came in the door, or broke down in the field. In the early years, there wasn't room inside the shop for most farm machines and Dick did a lot of work outside, even in winter. Later a cement block addition was built that allowed all but the largest equipment to be repaired inside.
When the temperature got down to around zero, Dick always knew he was in for it. Farmers would go out to the barn on a zero morning and switch on the silo unloader to get feed for the herd. The silage would be frozen and a chain, or something else would snap. Dick says he climbed many a silo in zero weather, dragging along an acetylene torch to make repairs.
One great story Dick tells is about the time a man brought in a corn binder that had picked up a rock, causing bent parts and broken gears in the knotting mechanism. Dick said, "I knew as much about corn binders as you could stick in your eye." The farmer brought in the instruction manual for the machine and Dick welded gears and straightened parts while referring to the book. When he'd finished, he stuck his shop broom between the binder points and turned the mechanism over with a large wrench. The broom moved stately through the binder, emerging at the other end with "…the prettiest little knot you've ever seen.." tied around the handle. Dick says, "That was probably the proudest I've ever been of a job. I didn't think that binder would ever tie a knot again!"
Another service both these men provided area farmers was plowshare sharpening. Dick says he heated and hammered hundreds of plowshares every year. Al McDonald did the same, but he also had another way of renewing old plowshares. He would cut a piece from an old truck spring, angle the end and weld this over the worn point. I remember my father being very skeptical about whether or not this would work, but I plowed many acres with those welded on points.
Given the shortage of money in the 1930s, and the scarcity of equipment during the 1940s, men such as Al McDonald and Dick Ronald performed a vital role in keeping farmers going.
Tractors
Farm Trucks
A Tribute to the Man with the Hoe
South Beaver Township Roads
Remembering the Days When Small Tractors Did It All
When Farmers Were Spotters: Farming the Homefront During World War II
Farm History from Milestones - The Beaver County History Magazine
First Farm Society of Beaver County
A Real American Idol Celebrates 100th: Mail Pouch
Milk Control Board
Zahn Recalls Farms of the 30s and 40s
The Mount Pleasant Hillside Farm
Old Cider Mill, Krut Farm
Farming Life on the Southside - 1900-1920
First Farm Society of Beaver County
First Farm Society of Beaver County
Milestones Vol 14 No 4 Winter 1989

Beaver County's industry and grange groups are a far cry from the early leaders of the rural districts of Beaver County. The first signs of desired organization was the banding together of small "neighbor" groups with similar interests. The Beaver County Agricultural Society was organized after county-wide agitation that lasted almost ten years.

The first meeting was called for a study of varied plans for such a group. An ad just signed "Farmer" appeared in the Argus February 28, 1844 and read as follows: Agricultural Meeting! The farmers of Beaver County are requested to meet at the courthouse, Beaver, on Monday evening the 4th day of March next (court week) for the purpose of forming an agricultural society of Beaver County. It was obvious this meeting was a success, because three months later the same paper carried another ad dated May 22, A meeting of the Beaver County Agricultural Society will be held in the courthouse, Beaver on Monday evening the third day of June next, at which time a constitution will be submitted and election of officers held.

The township committees appointed for obtaining subscribers will be expected to report May 20th. The first elected officers were: William Morton Esq., Chairman; Vice-presidents, Thomas Dugan, Thomas Cairns, James Sterling, and Thomas Nicholson. Secretaries were: Robert McFerren and James T. Robertson. David Minis was Treasurer.
A Real American Idol Celebrates 100th: Mail Pouch
Milk Control Board
Zahn Recalls Farms of the 30s and 40s
The Mount Pleasant Hillside Farm
Old Cider Mill, Krut Farm
Farming Life on the Southside - 1900-1920