Little Beaver Historical Society
19th Century Farming Communities - By the Numbers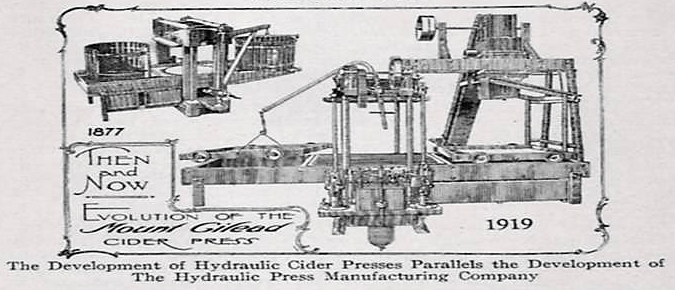 Frank Steele grew up on a farm near the intersection of Blackhawk and Georgetown Roads in South Beaver Township. According to LBHS historian Charles Townsend, "Frank wrote his memories by hand in a loose-leaf notebook sometime during the 1970's when he w as in his seventies. My late cousin, Peg Townsend, who lived in the house of Mr. Steele's grandparents, William and Susannah Smith, built in 1908 after their log cabin burned, provided me with the copy." Here is Mr, Steele's account of cider making:  
"My father bought a cider press from Lutz Brothers of Chewton, Pa. for $75.00. The press was a Mount Gilead Hydraulic 30 inch, and was run by a four horse power Detroit, one-cylinder engine. We did not have enough power. I had a 1914 Buick (that) I took the body off and put a 24 inch pulley on the drive shaft, and it really made the press hum. About everyone going by stopped to watch the old Buick. Howard McCreary sold Buicks in Beaver Falls (and) he brought out a Buick factory man to get pictures of it.

"My father bought a 8-16 International tractor from Joe Court about 1919 (and) he also bought a (larger) cider press, 36 inch, from Tom Madden about 1922 for $100.00. We could press 2 barrels of cider at one time. It was operated with the tractor. We would make from 40 to 50 barrel a day on the large press. I sold the press to Mr. Rupert, near New Waterford, Ohio, in 1939. We charged one dollar a barrel for making cider." (About $17 in today's dollars).
Source: LBHS Facebook post, October 20, 2020.
Farming in the Shadow of Nuclear Power
"Good judgement and a cool head will be helpful in protecting the Agricultural Community in the event of a nuclear reactor accident."
While doing research for this project we came across this sobering reminder that our local farmers face a potential risk that most American farmers do not have to consider–protecting our precious food supply from the harmful effects of a nuclear emergency.
The issue is real. According to the latest USDA Census of Agriculture (2017, see the
References page
for more local agricultural statistics), Beaver County has nearly 1,100 farmers working more than 613 farms producing on 53,832 acres. Most of this acreage yields crops (61%) but 39% is for livestock such as beef and dairy cattle, poultry, sheep, goats, hogs and other living things that might be most affected by nuclear radiation.
This emergency information for farmers is serious stuff. Here's an excerpt:
"Two primary protection action options for the general public are sheltering and evacuation. It is important that you respond quickly but calmly when notified that any protective action should be taken.
"Lactating dairy cows should be removed from pasture to protect milk supply. Animals should be given uncontaminated feed and water. Feed stored in buildings is protected from contamination. Water from a covered well or running spring is safe for animals.
"Sheltered animals receive some protection from radiation exposure.
"A limiting factor in protecting livestock is ventilation. It is better to have some radioactive contamination than losses from over crowding, heat and poor ventilation.
"Milk and other food products produced in the area of contamination will be tested by an appropriate agency."
Let's not forget that nuclear power generation is as much a part of our Beaver County industrial heritage as our celebrated steel and manufacturing industries. But we tend to think differently about atomic power; it has a peculiar and quiet historicity about it.
Nevertheless, the threat of a nuclear accident in Beaver County may be statistically low, but it is real and serious–even for our farming and agricultural communities that contribute to our food supply and local economy.
Let us hope that our industrial heritage and our agricultural heritage should never encounter one another under the wailing sirens of the Emergency Alert System.